It's a busy Thursday, just the way we like them. Per usual, the action gets started at 7 p.m. with three puck drops (Minnesota at Buffalo, Arizona at Philadelphia and the New York Islanders at Pittsburgh), followed half an hour later by two more (Florida at Toronto and Tampa Bay at Montréal [RDS/SN360]). The top of the hour marks the start of two contests (Detroit at St. Louis and Dallas at Winnipeg), while this evening's co-nightcaps wait until 10:30 before starting (Nashville at Los Angeles and Columbus at San Jose). All times eastern.
It's goin' be lit.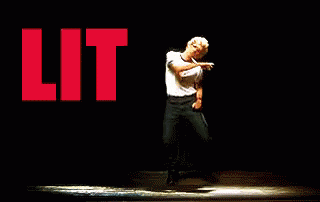 Short list:
Arizona

at

Philadelphia

– Ryan White returns to the Wells Fargo Center, his home for the previous two seasons.

New York

at

Pittsburgh

– I don't need to dress up this rivalry.

Florida

at

Toronto

– James Reimer only played eight regular season games with

San Jose

, so the

Panthers

are effectively his second team after six seasons with

Toronto

.

Tampa Bay

at

Montréal

– Michael Bournival used to call the Bell Centre home. Now his office is in the Sunshine State.

Detroit

at

St. Louis

– In addition to being a vintage rivalry, Steve Ott returns to Scottrade Center.
If Reimer were expected to play this evening in Toronto, we'd certainly focus there. Instead, we head to St. Louis with Otter for an old-timey rivalry.
Center Ott arrived in St. Louis with Ryan Miller when the Blues traded William Carrier, Jaroslav Halak and Chris Stewart to Buffalo at the 2013-'14 trade deadline. Miller departed for Vancouver after that postseason, but Ott remained until this offseason.
Ever since he entered the league in 2002, Ott has had a reputation for being one of the biggest pests in hockey. His penchant for getting into even the coolest of heads is well-known, as is his ability to cuss out any player in the arena in his native tongue.
It's an ability that doesn't show up on his stat sheet. The NHL doesn't track "Caused Penalties in Minutes," but if they did Ott would be a league leader. Some of the most recent Blues memories of Ott were against the Blackhawks during last season's Western Quarterfinals. Ott was regularly getting into it with Jonathan Toews, a player that spent only 62 minutes in the penalty box during the regular season (.775 minutes, or 46.5 seconds, per game). In those seven games, he served 10 minutes – over 1.4 minutes per contest!
But it's not simply his quick wit and abrasive behavior that has made him a fan favorite with every team he's played for. During the 2014-'15 season, his first full campaign in St. Louis, he scored 12 points (including nine assists) while throwing 182 hits and 14 blocks. He was also effective at causing turnovers that season, forcing 21 giveaways.
This year, Ott dons the sweater of the Blues' former rivals: the 5-2-0 Detroit Red Wings. Before Detroit swapped conferences in 2013, the Blues and Wings shared the same division since 1981, which led to some fantastic matchups when they were both playing well (also read as when St. Louis was playing well).
The Wings enter tonight's game on a five-game winning streak, tying Arizona for the longest active streak of any variety – except that the Coyotes have been on the losing side of things.
Much of that success has been due to some serious offensive firepower. They've scored 24 goals already this year in only seven games played (they average over 3.4 goals per game). Gustav Nyquist and Thomas Vanek take equal responsibility, as they both lead the team with eight points to their credit. Completing the scores have been Darren Helm and Vanek, each of whom have a team-high four goals to their name.
The 4-2-1 Blue Notes have a .667 winning percentage in the Scottrade Center, and they'll be looking to improve that to a .750 this evening. Although they play a more well-rounded game than their opposition, St. Louis also prefers to have the puck on their stick.
Just like he's been the last three seasons, Vladimir Tarasenko has been the star of St. Louis so far this season (that's why I have him on my fantasy team!). He has eight points to his credit already, four of which are goals – both totals lead the team.
Some players to keep an eye on this evening include Detroit's Helm (+9 [second-best in the NHL]) and Jimmy Howard (.5 GAA [leads the league] on a .984 save percentage [leads the league] for one shutout) & St. Louis' Jake Allen (2.39 GAA for three wins [both best on the team]) and Tarasenko (eight points [best on the team]).
The Blues barely had the upper hand last year, going 1-0-1 against the Wings by forcing overtime in their first meeting. Vegas predicts St. Louis will keep that run going tonight, as they're favored at -155. I think that's a safe assumption. The Blues should win this evening.
Hockey Birthday:
Sergei Samsonov (1978-) – This left wing played exactly 888 regular season games, over 500 of which were with

Boston

. He was drafted eighth overall in the 1997 NHL Entry Draft, seven picks after fellow

Bruins

-pick Joe Thornton, and a year later the Russian earned the Calder Memorial Trophy.
Brandon Saad (1992-) – This is Saad's second season in

Columbus

after spending four seasons with ex-division rival

Chicago

. He'd already scored 179 points before this season started. Maybe he'll score another tonight in The Tank.
---
With three goals in the second period, the New York Rangers bested the visiting Boston Bruins 5-2 in yesterday's Game of the Day.
Boston actually jumped out to a 2-0 lead, starting with David Pastrnak's (Brad Marchand and Zdeno Chara) wrister only 10 seconds into the contest. With 5:16 remaining in the opening frame, the Bruins' Austin Czarnik (David Krejci) doubled the visitor's score with the first goal of his young career.
New York's comeback began 44 seconds before the midway point of the game when Second Star of the Game Rick Nash (Derek Stepan and Jimmy Vesey) connected on a power play wrister. 7:19 later, Kevin Hayes (Jesper Fast and Ryan McDonagh) scored his second goal of the season on a wrister to draw the Blueshirts even. 36 seconds before the final horn of the second period, First Star Brandon Pirri (Third Star J.T. Miller and Mika Zibanejad) buried the Rangers' second power play goal of the game. That tally ended up being the game winner.
Pirri (Marc Staal and Miller) and Vesey (Nash and Stepan) both scored insurance goals in the final frame to put this game away.
Henrik Lundqvist earns the victory after saving 27-of-29 shots faced (93.1%), while Zane McIntyre takes the loss, saving 26-of-31 (83.9%).
With another home victory, the DtFR Game of the Day series favors the home sides by six points with a 11-6-1 record.